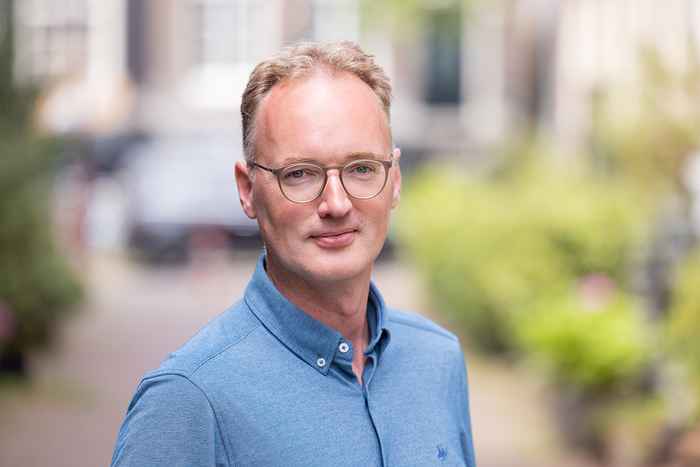 In his research, Sible Andringa focuses on multilingualism and learning a second language. He studies, among other things, which role consciousness plays in language acquisition, and what the added value of explicit instruction is when learning a second language. In much of his research, he makes use of eye-tracking in order to gain insight into the cognitive processes behind language acquisition.
He recently obtained a subsidy from the Open Competition SSH of the Dutch Research Council (NWO) for a research project into how literacy influences the language acquisition process. 'If you cannot read and write, learning a language is more difficult', says the professor. 'I'm going to research how literacy changes the process of language acquisition, by following beginning readers while they learn Dutch as a second language and simultaneously learn to read.'
Andringa has a special interest in language acquisition in the context of education. For example, he researched the professionalisation of teachers in the field of multilingualism and he was involved in the MIND project, a study into the influence of bilingual childcare on the language development of young children.
Not tied to a specific language
As Professor of Second Language Pedagogy, Andringa will continually search for the connection between the academic world and the language education practice. 'Through my research, I try to understand the general principles of second language acquisition and pedagogy', says the professor. 'As a result of that, I can research language acquisition on the basis of each language and I am not tied to a specific language. That makes my position quite unique, within a department in which many different foreign languages are incorporated. I see all kinds of opportunities for collaboration with colleagues who study specific languages and am looking forward to that.'
In order to reduce the gap between academia and practice, Andringa wants to collaborate with the professional field of language education and policy. 'In my research among Dutch as a second language (NT2) teachers and teachers of modern foreign languages, I have found that academic research is often not viewed as valuable and doesn't reach the field. By seeking dialogue with the field, you can assess the value of research and where necessary adjust it. I have close ties with the NT2 field and through research with students am trying to be of value to social partners, such as the City of Amsterdam, educational advisory services and schools.'
About Sible Andringa
Sible Andringa obtained his doctorate from the University of Groningen for his thesis The effect of form-focused instruction on second language proficiency and subsequently worked several years as a lecturer at the same university. Since 2017, he has been affiliated with the UvA, first as a postgraduate researcher and later as assistant professor in the Dutch Studies department.
Andringa is programme coordinator of the dual Master's in Dutch as a second language and multilingualism. He coordinates the research group Language Learning, Literacy and Multilingualism and is chief editor of the Dutch Journal of Applied Linguistics. In addition, he is one of the initiators of OASIS, a database in which accessible summaries of linguistic publications are made available. The objective of this is for research in the fields of (second) language acquisition and language education to find its way to the education practice and the general public.
Prof. S.J. (Sible) Andringa
Faculty of Humanities
Seconde Language Acquisition